EVENTS AND NEWS
Ronald Reagan PTA
2019-2020
MAY 2020
Congratulations to our Reagan High School Graduates!
YOU DID IT!
---
---
Administrators – Thank you for all you do for our students!
On Monday, May 18th, Reagan PTA President, Kerrie Tarwasokono, and some of the Executive Board members were able to say "Thank You" to Mrs. Brenda Shelton, RHS Principal, and her wonderful Administrators.  
Mrs. Shelton and RHS Administration
PTA President Kerrie Tarwasokono and Executive Board Members
---
Happy Mother's Day to our AMAZING PTA MOMS!
---
CONGRATULATIONS NEISD SVSA Recipients
SVSA certificates will be porch drop off (depending on subdivision) or mailed. Please send your street address and name of subdivision to rhsptatreasurer16@gmail.com.  Again, congratulations!!
Reagan High School Teachers are the Best!
FINAL MEMBERSHIP MEETING 2019-20
May 5th – 11:00 AM  – Registration Required
The Reagan PTA will be hosting our final Membership Meeting for the 2019-2020 school year on May 5th at 11:00 AM.  If you are interested in joining us for our election meeting, please RSVP to the link below.  Please respond by May 1st.  
VOTE    VOTE    VOTE    VOTE
Please complete the entire form. The 2020-2021 Reagan PTA Officer Slate is: President – Kerrie Tarwasokono; 1st VP – Katie Brown; 2nd VP – Christy Garber; Secretary – Lesley Oberlin; Treasurer – Sara Patterson
If you wish to be considered for a position, please indicate interest at the bottom of the form.
APRIL 2020
CONGRATULATIONS PTA SENIOR SCHOLARSHIP RECIPIENTS
Peyton Ausburn

Gareth Bullard

Emily Kiolbassa

Brooke Lester

Andy Liu

James Morin

Rishabh Prasad
The Reagan PTA recognizes these individuals for their outstanding scholastic record, school service involvement, and civic service in the community.  Each recipient will receive a $1,000 scholarship award.  On behalf of the Ronald Reagan High School PTA Scholarship Committee, we heartily congratulate the award recipients and wish them continued success in their educational endeavors.
HAPPY EASTER!
PTA BOARD INTEREST SURVEY
It's that time of year to begin the process of filling our PTA Executive Board positions for the next school year.  If you are interested in serving, please see attached form:  PTA Board Interest Survey 2020-2021.
MARCH 2020
The 2020-2021 Ronald Reagan PTA Nominating Committee submits the following nominees for the 2020-2021 school year. PTA Election information will be shared as soon as it is available.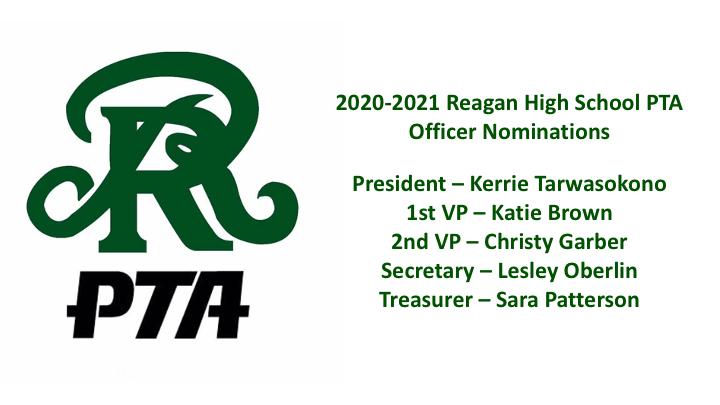 2020-21 RHS PTA OFFICER INTEREST SURVEY
Our Reagan PTA is beginning to plan for the next school year. 
Please consider serving as a PTA officer for the 2020-2021 school year.  Interested persons should fill out the attached Officer Interest Survey.  Descriptions of each position are included in the attachment. 
Please submit forms to adriandhicks@gmail.com by March 24th.
If you have any questions, feel free to contact Adrian Hicks.
 2020/21 RRHS PTA Officer Interest Survey
SPRING BREAK – March 9-13, 2020
FEBRUARY

2020
PTA will be hosting a
PTA College/Career Night on Tuesday, February 18th from   6:00 p.m. – 8:30 p.m. in the Reagan Cafeteria.  
College 101 at 6:00 p.m.
PTA meeting at 6:30 p.m.
College/Military reps at 6:45 p.m. – 8:30 p.m.
Starting at 6:45 p.m. there will be representatives from local colleges/universities, military branches and career tech programs to answer your questions. 
JANUARY 2020
HAPPY NEW YEAR!
The following PTA scholarships are now available:
Ronald Reagan PTA 2020 Senior Scholarship – In order to apply for this scholarship you must be a RRHS Senior student and a current member of the PTA.  ONLY Scholarship Applications dated with 2020 will be accepted. No earlier versions will be considered. For more information contact Michele Chebib at gchebib@gmail.com.  PTA Senior Scholarship Application-2020
Blossom Scholarship – spring 2020 –The purpose of the Virgil T. Blossom scholarship is to give financial assistance for up to eight semesters of college study to graduating senior students who plan to enter the field of education. The deadline to apply is January 31st.  For more information contact Paige LaGuardia at  maplaguardia@att.net. Blossom Scholarship
Please go to -Scholarship and Award Information, Forms and Links – for more information.
DECEMBER

Happy Holidays
from your Ronald Reagan PTA
Congratulations!
By achieving more than 100% of your previous year's total membership and reaching a 3 year high, Ronald Reagan High School has earned the Three Year High Award. Flaunt your award emblem with pride!
¡Felicidades!
Al reclutar el 100% de la membresía total del año pasado y alcanzar el nivel más alto en membresía en tres años, Ronald Reagan High School se ha ganado el premio nivel de membresía más alto en tres años. ¡Haz alarde de tu emblema de premio con orgullo!
---
4TH ANNUAL HOLIDAY BIZARRE
Saturday, December 14th -10:00 AM – 3:00 PM – Reagan Cafeteria 
Shopping, silent auction, raffle, world-class BBQ and holiday cheer! Find the perfect gift just in time for the holidays. Benefiting Reagan High School JROTC.  Free admission and parking. Click the link for more details.  https://facebook.com/events/s/reagan-holiday-bazaar/615317645644669/?ti=cl
Reagan High School JROTC
New Facility Grand Opening 
Tuesday, December 10, 2019
2:30 PM
CONGRATULATIONS TO THIS YEAR'S RECIPIENTS OF THE     HONORARY PTA LIFE MEMBERSHIP AWARD!
Ashley Bullard – recipient
Kerrie Tarwasakondo – recipient
Vina Rodriguez, chairperson
---
NOVEMBER
Congratulations to the Ronald Reagan Band for your participation in the Macy's Day Parade!
---
---
From Your Reagan PTA
---
Thank you to Karin Zaltsman for sharing her story and the importance of the impact distracted driving can have on each of us.  Remember to download the Safe to Save app today.
---
PTA General Membership Meeting
Tuesday, November 19th
Reagan Cafeteria at 6:30 p.m.  
The next PTA General Membership meeting is Tuesday, November 19th in the Reagan Cafeteria at 6:30 p.m. The agenda for that evening includes a presentation on safe driving.
Representatives from Safe2Save will be here to discuss how we can become a community of safe drivers. According to Texas Department of Transportation statistics, 1 in 5 crashes involves distracted driving. Bexar County leads the state in fatalities due to distracted driver crashes.
Karin Zaltsman will also be presenting.  She will share her family's story about their daughter Emily, a Northside student, who was killed in a car crash caused by a distracted driver. Please take a moment to watch this news story about Karin.
https://news4sanantonio.com/news/local/distracted-driving-death-motivates-grieving-mother-to-advocate-for-free-save2safe-app
Once you hear Karin speak, we hope you and your student(s) will understand how we all need to be part of the solution.
Please join us for this important presentation.
There will also be a brief PTA meeting to vote on the following:  
Standing Rules Proposed Addition:
Costco and Sam's sales tax reimbursement

Training Expenses updates

E – commerce Policy 
---
Applications close in 1 week!
Texas PTA scholarship applications close one week from today on November 15, 2019. All eligible high school seniors and faculty members are encouraged to apply! Check eligibility, prepare your application responses, and jump online today.   Click here for more information. https://www.txpta.org/scholarships
Representatives from the Reagan Band shared their accomplishments to date with RHS PTA Executive Board on Tuesday, November 5th.  Congratulations to the Ronald Reagan Band for doing a fabulous job at the Band of Americas San Antonio!  Now on to the Macy's Thanksgiving Parade!
---
OCTOBER
Honorary Texas PTA Life Membership Award
An Honorary Texas Life Membership is the highest honor bestowed upon an individual by the Texas PTA for outstanding contributions to the well being of children and our school community. PTA Life Member Award Nomination Form

October 23rd-31st
Friends Don't L

et Friends Do Drugs!
Red Ribbon Week is sponsored by the Winners' Circle student organization.  Look for opportunities to register to become a member and for upcoming events and activities.
All pre-paid Winner's Circle shirts can be picked up during all lunches this Friday, October 25th.  Then again on Thursday, October 31st.

Are you or your students/s members of Reagan PTA?  If not, please join today.  Your monetary support will benefit programs and activities for you sponsored through the local and state PTA.  If you have any questions, please contact Ana-Maria Morales, Reagan PTA Membership, at ana-maria_lle@sbcglobal.net.   joinpta.org.
Interested in volunteering with PTA?  You can do that too!
OCTOBER STUDENT ACTIVITY RECOGNITION
PALS – This student group mentor students at feeder schools.  Applications to become a member will be available February 2020.
---
SEPTEMBER
VTuesday, September 17 @ 6:30 pm
Program – Cafeteria – Greenback Night/Open House
---
PTA GENERAL MEETING DATES
Tuesday, November 19 @ 6:30 pm
Program – Cafeteria – Safe 2 Save
Tuesday, February 18 @ 6:30 pm
Program – Cafeteria – College Night and Nominating Committee
Wednesday, March 4 @ 9:30 am
Program – Auditorium – Incoming Freshman Parent Meeting
Tuesday, April 7 @ 11:00 a.m.
Program – Library – PTA Scholarships
---